Most of the Debian work I have been doing since 1998 is available for free, I'm self-employed and have no wage coming in every month. I rely on your support to continue doing the good work that you (hopefully) appreciate. Check below for ways to show me that you like what I do!
By joining my free newsletter, you'll be part of my Debian Supporters Guild—you'll be treated with care and love. You get my members-only monthly analysis of the Debian/Ubuntu news, exclusive content, and discounts on all my new ebooks. Make yourself a favor and subscribe now!
I need roughly 2000 EUR every month to have a decent life with my family. Every time that you give me money, it means I can spend time contributing new features to Debian, or write more great documentation, instead of looking for customers. Show your appreciation, donate now!
Alternative to PayPal: click here to try transferwise.
If your company uses Debian, please join the Debian Long Term Support initiative. It's important to give back to what you freely benefit from.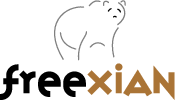 I am an independent consultant and I offer my services via my company (Freexian SARL). Check out my offer of consulting and technical assistance. I can also create Debian packages, and help you to get them integrated into Debian.
Flattr is a social micropayment system that you can use to show how much you appreciate the work done by others. You decide how much you spend each month and the money is split between all the things you have "flattered" during that period.
You will find Flattr buttons on most of my posts and on some selected pages. Every time you enjoy something, just click on the Flattr button, it won't cost you more. Click below now! If you a click a second-time you can "subscribe", it's the same than clicking once every month but without the hassle.
Raphaël blogs about Debian and his work within Debian. Consider flattring my blog to support my work.
You can also setup recurring micro-donations with Gittip.com:
Follow me and share my articles
You can receive new articles published on this blog by subscribing to the RSS feed, it's excellent content for free, just subscribe now!
Writing blog articles is time-consuming, thus I can't share all important Debian news here but I will usually write a short blurb on Google Plus. Use the widget on the right to add me to one of your circles!
Facebook users will be glad to know that they can follow my blog through my official Facebook page.
If you're more into micro-blogging, you can be informed of my blog articles on Identi.ca and Twitter (it mirrors identi.ca). Follow me on Identi.ca or Twitter!
Please share the articles that you appreciated. I write them to help users and contributors of Debian/Ubuntu, so the more people reading them, the better it is. Below each article you will find buttons to share my articles on the most popular social networks. Use them!