Like each month, here comes a report about the work of paid contributors to Debian LTS.
Individual reports
In March, 61 work hours have been equally split among 4 paid contributors. Their reports are available:
The remaining hours of Ben and Holger have been redispatched to other contributors for April (during which Mike Gabriel joins the set of paid contributors). BTW, if you want to join the team of paid contributors, read this and apply!
Evolution of the situation
April has seen no change in terms of sponsored hours but we have two new sponsors in the pipe and May should hopefully have a few more sponsored hours.
For the need of a LTS presentation I gave during the Mini-DebConf Lyon I prepared a small graph showing the evolution of the hours sponsored through Freexian: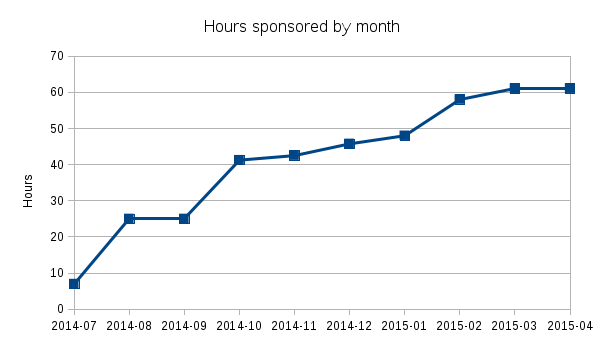 The growth is rather slow and it will take years to reach our goal of funding the equivalent a full time position (176 hours per month). Even the intermediary goal of funding the equivalent of a half-time position (88h/month) is more than 6 months away given the current growth rate. But the perspective of Wheezy-LTS should help us to convince more organizations and hopefully we will reach that goal sooner. If you want to sponsor the project, check out this page.
In terms of security updates waiting to be handled, the situation looks similar to last month: the dla-needed.txt file lists 40 packages awaiting an update (exactly like last month), the list of open vulnerabilities in Squeeze shows about 56 affected packages in total (2 less than last month).
Thanks to our sponsors
The new sponsors of the month are in bold (none this month).
Gold sponsors:
Silver sponsors:
Bronze sponsors: