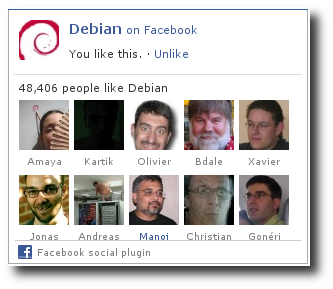 Facebook is not very popular among free software hackers. When I announced my Facebook page on identi.ca (see here) I got a few replies suggesting it was odd for me to use Facebook.
Indeed there are many good reasons why Facebook should be avoided: it is a centralized and proprietary service that is not very privacy-friendly. But the truth is that lots of people are using it (even Debian developers, can you recognize them on the picture?) and some are using their Facebook news feed as their main source of news.
You might wonder how many persons that represents, so here are the figures: the Debian Facebook page has 48,361 fans and the Ubuntu one has 247,932 fans. That's right, an announce put on the Debian facebook page would reach more persons than the most popular announce list that Debian is currently running (debian-announce@lists.debian.org has about 29,000 subscribers). Unfortunately that Debian Facebook page is empty and I don't even know who the administrator is. The Ubuntu page on the contrary is properly configured to relay news from The Fridge and Jono Bacon is posting some custom updates from time to time.
Debian contributors regularly mention "world domination" as the ultimate goal of the universal operating system (I even feature this in my blog header banner! :-)). But working towards world domination means — in my opinion — that we should communicate our ideals of freedom to as many people as possible, even if they are using a service that we don't want to promote.
The Debian social contract acknowledges that some users have to use non-free software and we provide the non-free section for them. In the same spirit, I believe we must have a presence on Facebook. That does not mean that we endorse Facebook, and we should surely promote Joindiaspora once it's usable. But in the mean time we should reach out to Facebook users and allow them to follow us with the platform of their choice.
That's the choice I recently made when I decided to setup a public facebook page featuring my free software work, my blog and my book. So if you are a Facebook user, click here to visit my page and click on "Like" if you want to follow this blog in your Facebook news feed. I also share interesting Debian or Ubuntu related articles that I discover while reading my RSS subscriptions.
Below are the usual facebook widgets for the 3 pages quoted in this article (they might not show up if you read this article through an RSS feed):