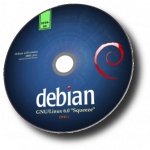 After a private launch (with discounted prices) for my newsletter subscribers, it's now time to open my Debian DVD shop to the public.
I did not want to become yet another DVD reseller, so my DVDs are different and better. Here's why you want to get one (or more):
it's easier to install Debian with my DVDs since they provide all the (non-free) firmwares that have been stripped and that you're supposed to provide on a USB key;
the installed system features the former theme (MoreBlue Orbit) and not SpaceFun (although you can reactivate SpaceFun easily if you prefer it);
100% of the benefits are reinvested into Debian (90% to fund my Debian work, 10% given back to Debian to fund work meetings)
they are provided in a beautiful DVD case and despite this they are not expensive (between $3.49 and $5.49)
Click here to learn more about my DVD offer.
PS: Click here and join my newsletter to not miss other opportunities.