February has been again a busy month for me. Here's a quick summary of what I did:
Multi-Arch work
I have spent many days implementing and refining dpkg's Multi-Arch support with Guillem Jover (dpkg co-maintainer) and Steve Langasek (beta-tester of my code ;-)). Early testers can try what's in my latest pu/multiarch/snapshot/* branch in my personal git repository.
A Debian DVD shop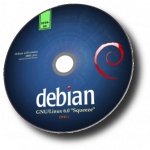 I'm always exploring new options to fund my Debian work (besides direct donations) and this month—with the Debian Squeeze release—I saw an opportunity in selling Debian DVD. Nobody provides DVD with included firmwares and quite a few people would like to avoid the SpaceFun theme. So I built unofficial Debian DVDs that integrate firmware and that install a system with the old theme (MoreBlue Orbit). Click here to learn more about my unofficial DVDs.
On my blog
In my "People behind Debian" series, I interviewed Mike Hommey (Iceweasel maintainer) and Maximiliam Attems (member of the kernel team).
I started a "Debian Cleanup Tip" series and already published 4 installments:
For contributors, I wrote two articles: the first gives a set of (suggested) best practices for sponsoring Debian packages and adapted my article as a patch for the Developers Reference. In the second article, I shared some personal advice for people who are considering participating on Debian mailing list: 7 mistakes to avoid when participating to Debian mailing lists.
Click here to subscribe to my free newsletter and get my monthly analysis on what's going on in Debian and Ubuntu. Or just follow along via the RSS feed, Identi.ca, Twitter or Facebook.