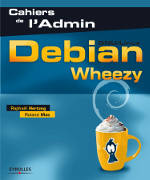 Barely one and half month after the release of the Wheezy version of the Debian Administrator's Handbook, I'm proud to announce that two translations have been completed: French and Spanish.
And, as promised in the last liberation campaign, the French translation has been published as a paperback by Eyrolles (see the cover above).
Check out the article on debian-handbook.info for more information.